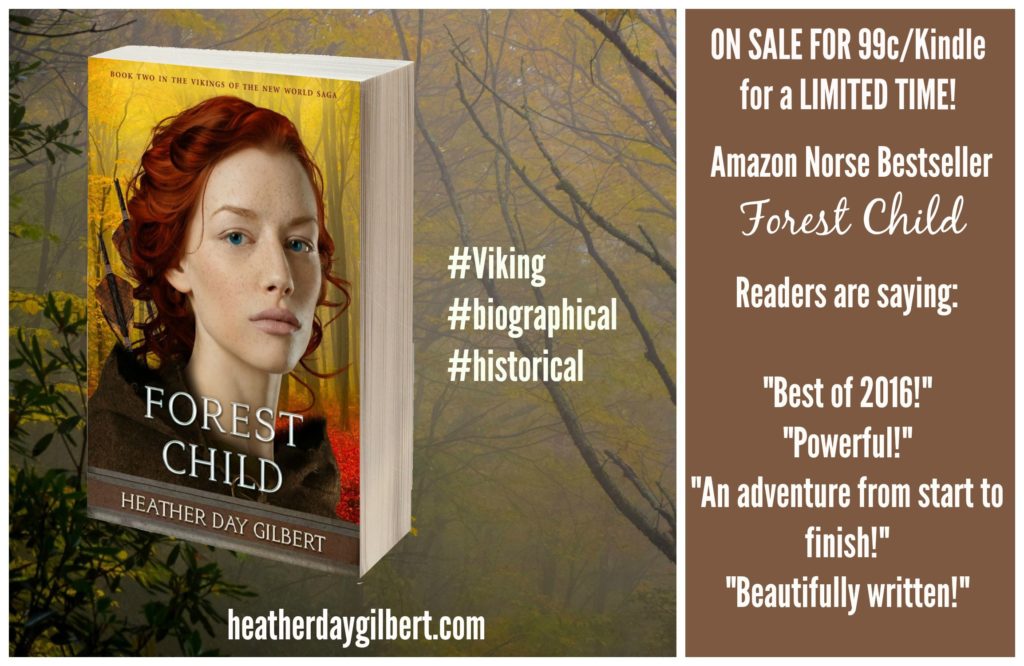 Hoping you all had a wonderful Christmas and a glorious time ringing in 2017!
If you've received a new e-reader or an Amazon gift card, now's a great time to stock up! Forest Child is on SALE for only 99c for Kindle for a few days, marked down from its regular price of $5.99! You don't have to read God's Daughter before reading this one, although many go back and read it later!
Pick it up here on Amazon today!
Here are a few endorsements from Forest Child:
"Forest Child is one of the bravest works of fiction I've ever read. Brimming with tension, yet laced with tenderness, this powerful saga is sure to keep you turning the pages far into the night. An ingenious blend of Viking history and timeless issues of the heart still relevant today."
~ Jocelyn Green, award-winning author of the Heroines Behind the Lines series
"Forest Child. An enthralling Viking tale coupled with the heart-rending journey of a troubled soul.
Fierce, inscrutable Freydis Eiriksdottir grabbed my heart and didn't let go. I loved her even as I deplored her actions, mourned for her brokenness, and ultimately rejoiced in her transformation. Heather Gilbert has once again brought the Vikings to larger-than-life in the pages of Forest Child with authentic historical detail, a captivating story, and an unforgettable heroine."
~Stephanie Landsem, author of The Living Water Series
"The Vikings of the New World Saga contains some of the most profound characterization I have ever read. Inlaid with both tension and turmoil, romance and redemption, like its predecessor God's Daughter, Forest Child takes the reader on a journey that is anything but gentle–yet unrivaled in its poignancy. With each turn of the page, hearts are searched and the love of a mighty God has the power to triumph. By illuminating the lives of a pagan culture, we readers are given a profound reminder that our souls are of the same make as the Vikings'. The weapons we wield may not be of iron or steel, but they are just as powerful, and though our choices may not affect a village of loved ones, to seek goodness and wisdom is a call that stretches across even centuries of time. Set within a most stunning landscape, and filled with a genuine cast of characters, Forest Child is a heart-wrenching portrayal of love and humanity and one that will hold a special place in my heart."
~ Joanne Bischof, award-winning author of The Lady and the Lionheart
Also, I wanted to let you readers know that Forest Child is also eligible for nomination in the INSPY award contest this year! This is a contest in which the best Christian fiction of the year is nominated by readers and bloggers. You can find the details here on the contest, and you can nominate Forest Child either here in Google docs or here on the contest page. The more nominations a book receives, the greater its chance of making the longlist of finalists. Here is the information you'll need to enter:
TITLE: Forest Child
AUTHOR: Gilbert, Heather Day
PUBLISHER: Click "Other" and enter WoodHaven Press
CATEGORY: General Fiction
PUBLICATION MONTH: October 2016
13 Digit ISBN: 978-0997827903
As you know, any and all award recognition an author receives helps with marketing books in the future. I have heard from so many of you personally how much you have loved Forest Child, and I would love to see it win some awards so more are inspired to read it!