My author guest today is one of my favorite mystery authors, Karin Kaufman. I've read every book in Karin's Colorado-set Anna Denning Mystery series, and folks, these are books where it's nearly impossible to guess whodunit! Bitter Roots is Book 5 in this excellent series, and it was one of my favorites thus far. Find my review here. Karin's first four mysteries are also available in audiobook on Audible, narrated by Becky Doughty,who is also my narrator.
I wanted to ask Karin a few questions about her creative process (because I'm nosy like that). Read on for our interview and be sure to leave a comment for a chance to win one of two e-book copies of Bitter Roots!
About Karin: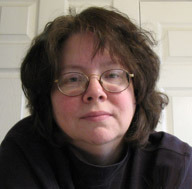 Although my mysteries and thrillers are written from a Christian perspective, they don't downplay the evil we confront in this world—or the isolation Christians sometimes feel in what is a largely secular culture. But I reject the notion that "realistic" means dark or oppressive. Because there is also goodness in this world—love, friendship, laughter, faithful dogs, piping hot cups of coffee—and it's every bit as real as the evil.
The Witch Tree, the first book in my Anna Denning mystery series, was a finalist for a Grace Award. I live near the foothills of the Colorado Rocky Mountains with my crazy but lovable shelter dogs.
Interview with Author Karin Kaufman:
HG: First, I just have to say I love every title and book cover in the Anna Denning mystery series! Does it take a long time to brainstorm your titles? I feel they often have symbolic, layered meanings, too.
KK: Thank you so much, Heather! That's high praise from someone with some of the best titles and book covers in the business! Sometimes a title comes to mind quickly, while I'm plotting the book, and at other times it comes slowly, as it did with Bitter Roots. Looking back, Bitter Roots is an obvious title, though it didn't seem so early on in the writing.
I'm glad you see the symbolism and layering. That's important to me. I like to write multilayered mysteries, so I want my titles to give a hint of that. Though I've wondered if I sometimes go a bit too far with the layers. For instance, the "tree" in The Witch Tree, the first book in the series, is a genealogical tree with witches in it, not some spooky tree where witches gather at night. Trouble is, readers who aren't familiar with the series might be confused about the book's true subject if they're only looking at the title–and I can't blame them!
HG: (*Blushing at the kind comment on my titles and covers*) When the meaning of "The Witch Tree" title dawned on me, I was blown away. How did you come up with a career of genealogist (I always spell that wrong!) for Anna? It adds such a unique twist to the storylines.
KK: About fifteen years ago I started diving into my family's genealogy, a task that at that time was becoming easier with the proliferation of online records. As I got into it–and boy, did it become addictive–I realized how much family tree hunting was like detective work. Very little in genealogy, especially when you get past your grandparents or great-grandparents, is explicit and easy to find. You have to piece together clues from a variety of sources. Sometimes you have to make educated guesses on where to look next so you don't get lost in all the facts and figures and similar-sounding ancestor names. And if you've guessed right and then found the final piece of the puzzle that confirms the name of a distant ancestor, it's very satisfying. Like I imagine detective work to be.
Another reason I chose to make Anna a genealogist is that so much crime is based on the past. The past has its claws in the future–that's a running theme in the Anna Denning series. Revenge, possibly the biggest motive for murder in mystery novels, is all about the past. Even greed and the thirst for power, two other popular motives, often have their origins in the past. I figured if Anna could dig into the suspects' pasts in a way the police couldn't, she could ferret out the killer.
HG: So true and I love the "cold case" feel of these novels. Bitter Roots reminded me of Agatha Christie's And Then There Were None, with suspicious people being trapped together in one place. I noticed you also dropped some Agatha references in the story. Are you a big Agatha fan (You can see I simply refer to her as "Agatha"—in my mind, there's only one)? Also, if so, what's your fave book by her? If not, what's your fave mystery in general?
KK: Yay, you caught the Agatha references! Some were a little obvious, but I tried to be sly with others. What's my favorite mystery by Agatha (I agree, just "Agatha" will do)? That's so hard. She wrote so many great ones. But I usually go back to the first mysteries I read by authors I love, so I'd have to say A Murder is Announced is my fave. Such an intriguing premise in that one.
For that reason, too, I love The Nine Tailors by Dorothy L. Sayers. It's not supposed to be her best mystery, or so I've heard, but when I read it ages ago as my first Sayers book, I was knocked out by it. When I think of the perfectly structured mystery, I think of that book.
Still, probably my favorite mystery author of all time is Tony Hillerman. His Lieutenant Joe Leaphorn is one of the great characters in all of writing, period. I want to know Leaphorn. I want to have a cup of coffee with him. Name a Hillerman novel, and that's my favorite mystery.
HG: (*Scrambling to put those books on my To-Read list*) What would you say is the toughest part of writing mysteries? The easiest/most fun?
KK: It's almost all fun for me, though once or twice I've painted myself into a plot corner and had to struggle to get out of it. My plots can get quite sticky in that way, especially with all the different threads I try to weave into a story. But I love all of it. The whole process. I love creating a town where I want to live, filled with people I want to know. When I sit down to write, I feel I've entered that world. How can that not be wonderful?
HG: I totally agree! Do you know how many books you're shooting for in the Anna Denning series? Have you considered starting another cozy mystery series?
KK: I'll do at least one more book in the Anna Denning series, probably more. After all, we have to get Anna and Gene married! I'm also starting a new cozy series. And by "cozy," I mean a genuinely comfy, cozy series. A curl-up-in-bed series. I think of the Anna Denning mysteries as not-quite-cozies, since they deal with the rise of the occult in today's world and how Anna battles that. I've always been attracted to that theme–the danger of the occult and new age philosophies–so that's something I may investigate in yet a third mystery series. But I'm getting ahead of myself!
My second series, coming out later this year, is set in Colorado, in a small town nestled up against the foothills. Not in the mountains, as with the Anna Denning series, but at a mere 5,500 feet or so. (That's flatland for us Coloradoans.) I'm so excited about this series, and I hope readers will be too. It's something I've wanted to write for a long time.
HG: (*Commence total geek-out over this excellent news! And I had to ask someone, but yes, "geek-out" does mean something good! I like to stay up on my 21st century jargon. LOL*) I cannot WAIT to read this one, Karin! I'm pondering a new cozy series myself. And YES, I can't wait for Gene and Anna's wedding. Those two have a great thing going. Thanks so much for stopping by today!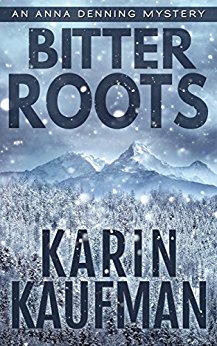 ***Readers, answer this question below for a chance to win one of 2 e-book copies of Bitter Roots: Why do you enjoy reading mysteries?***
Winners will be notified via email on Thursday, May 4th!