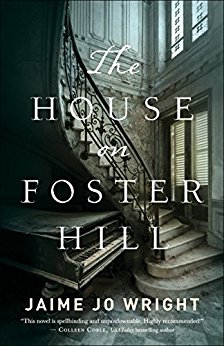 Today I'm so glad to welcome author Jaime Jo Wright to my blog. Jaime's such an interesting gal and we have some things in common–she loves Edgar Allan Poe, she loves coffee, and she knows her way around a lethal weapon (she bowhunts). Best of all, she writes mysteries that have me guessing until the end (hard to do for this die-hard Agatha Christie reader). I've been SO looking forward to sharing about her engrossing novel The House on Foster Hill, which officially releases today! Find it here on Amazon! Here's my review on Goodreads:
"This book kept me riveted! I love mysterious stories that are tied in with old houses, and this one had some amazing plot twists. Also, as an aside, I really loved the character of Grant Jesse. Wright has a really fresh way of writing that enabled me to "see" the setting and characters and I was really rooting for both protagonists (since it's a dual-timeline story). And speaking of dual-timeline, this one was impeccably done and I love how events in one era would kind of segue into the other. 
Excellent and UNUSUAL novel from a Christian publisher–I liked that it dealt with some heavier issues, but not in a graphic way. I really hope we see more books like this from Wright!" ~Heather Day Gilbert
And now, here's a bit more about Jaime Jo! And read to the end for a chance to win a softcover copy of The House on Foster Hill!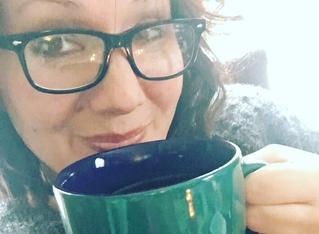 Professional coffee drinker & ECPA/Publisher's Weekly best-selling author, Jaime Jo Wright resides in the hills of Wisconsin writing spirited romantic suspense stained with the shadows of history. Coffee fuels her snarky personality. She lives in Neverland with her Cap'n Hook who stole her heart and will not give it back, their little fairy Tinkerbell, and a very mischievous Peter Pan. The foursome embark on scores of adventure that only make her fall more wildly in love with romance and intrigue. Jaime lives in dreamland, exists in reality, and invites you to join her adventures at jaimejowright.com
Interview with Author Jaime Jo Wright
HG: I'd love to know what inspired you to write a split-timeline tale! Have you read lots of split-timeline novels, and if so, which are your favorites? Also, do you read psychological suspense/thrillers, which is sort of how I'd classify yours?
JJW: Colleen Coble, my mentor, inspired me! She shot me a text one evening and said, "have you ever considered writing a split-time?" I'd actually  been jostling around an idea for a historical mystery and a contemporary mystery, so I was "let's sandwich them together!" Thus became The House on Foster Hill. As for reading, I read all types of novels. So, I'm not devoted to one specific genre in my reading habits. I honestly, read a lot of the Gothic classics too. I love, love, LOVE Jane Eyre, and Great Expectations, and of course, Edgar Allan Poe is my super-dead Classic boyfriend.
HG: Ha! Good ol' Edgar Allan–he was one of a kind! The House on Foster Hill was just what I have been looking for in Christian fiction—a tale that is spooky, but not godless, even though at one point, I wasn't sure which way things were heading! How did you develop the setting in this book, which I feel was like another character (old houses often are—I live in one!).
JJW: The setting was another character, you're so right! I based Foster Hill House on my dad's old childhood home I was able to snoop around in when it was abandoned. Hallways, and stairways, and old walls. I really did sense as though they were trying to speak to me, although I blame that on my over-active imagination. (I don't really believe inanimate objects have spirits and voices). I've also been able to explore abandoned asylums, barns, and other such buildings. So Foster Hill House really became a conglomeration.
HG: I kept wondering about Kaine's name and if it might play into the story of her heritage! It's so unusual for a woman to have that name—how'd you come up with it?
JJW: LOL I wish it was that deep and a part of her heritage. I was messaging with my sister and told her I needed a contemporary female's name. She worked her magic and came up with Kaine. It's really that simple. It stuck.
HG: Let's talk about the men in both storylines: Grant Jesse and Joel Cunningham. These men are different, yet similar in the way they're pulled into things beyond their control. As I've mentioned, I was quite impressed with Grant Jesse and I liked his proactive stance in protecting Kaine. Did you pull from real-life men to develop their characters or were they mostly fictional?
JJW: I did pull elements from real-life people. Grant is definitely sensitive to the emotional elements of Kaine, but he's also good at letting her be her own person too and not butt in where he's not needed. I think Grant has characteristics of my Dad (is that weird??!) because my Dad is good at reaching into those emotional spaces and understanding. Joel really wasn't based on any one person, to be honest. He's based off of a Meyer's Brigg character-type. How special is that? LOL! In fact, I'm not sure I know anyone who Joel really reminds me of. He was a bit more difficult to write because of that, but fun to pull on those character type's elements.
HG: I know we'd talked about this on Facebook, but do you loosely plot or do much plotting with the two storylines, so they'll line up properly? I know my first mystery was dual timeline and I had to keep comparing notes to make sure one side was moving at the same speed as the other. Any tips on writing split-timeline?
JJW: I'm weird. I take very few notes and it all lives in my head. I do have a journal so as I write, I'll jot down a thread that I need to make sure is tied up at the end of the book. Sort of a checklist, so to speak. As for lining up the storylines, I do plot, but just the skeleton. Everything else just evolves as I go. I see stories very vividly in my head. There's nothing mathematical about them. Just a series of scenes until we reach the end.
As for tips on writing split-time? I'm probably the most unorganized writer, so my biggest tip, is don't ever do what I do. LOL
HG: Ha! Thanks for your honesty! Finally, please tell us a little about your next release!
JJW: The Reckoning At Gossamer Pond comes out July, 2018. I'm super excited about this novel. It was hard to write after THOFH because THOFH sort of flowed and TRAGP was more of a: "Is this even going to measure up?" novel.
Where THOFH centered around a house, TRAGP centers around the town of Gossamer Grove. This town has many secrets and specifically, shameful ones, that citizens prefer to keep under wraps. It's really the question: If you were asked to be authentic, would you expose your deepest shame? The answer, more often than not, is no. So what happens, when someone finds out and believes there must be a reckoning?
There are twin revivalists in this novel (think hellfire and damnation with saw dust aisles in tents), obituaries that mystery appear before the person has died, and two heroines with very deep, painful, and dark secrets they must come to terms with.
Now that the novel is written, I'm really thrilled to see it launch into the world. I believe readers, like me, will relate to Libby (1907) and Annalise (present day) and their struggles, and also a resounding message that GRACE is very undeserved, and yet, therein, lies God's biggest miracle.
HG: Sounds like another unpredictable read–just up my alley!
Check out The House on Foster Hill today! Here's the book blurb: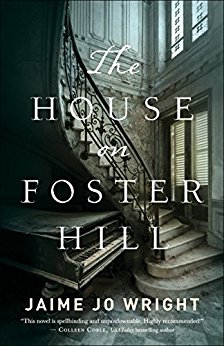 Kaine Prescott is no stranger to death. When her husband died two years ago, her pleas for further investigation into his suspicious death fell on deaf ears. In desperate need of a fresh start, Kaine purchases an old house sight unseen in her grandfather's Wisconsin hometown. But one look at the eerie, abandoned house immediately leaves her questioning her rash decision. And when the house's dark history comes back with a vengeance, Kaine is forced to face the terrifying realization she has nowhere left to hide. 
A century earlier, the house on Foster Hill holds nothing but painful memories for Ivy Thorpe. When an unidentified woman is found dead on the property, Ivy is compelled to discover her identity. Ivy's search leads her into dangerous waters and, even as she works together with a man from her past, can she unravel the mystery before any other lives–including her own–are lost?
***Readers, please be sure to answer this question in the comments for a chance to win your own softcover copy of The House on Foster Hill by Jaime Jo Wright:
~What is your favorite suspense novel of all time and why?~ 
Winner will be announced next week on the blog!***