Flames lapped at the monk's robes. He raced down the corridors that crackled with the collision of dampness and heat, dodging fire-lit debris. So this was to be the end, then. The night the stones of Ballyfir Monastery would tell their last tale…
So begins the tale of a humble monk, his unwavering courage, and the bronze bottle he sends into the night with a prayer that its contents might bring hope—the very word etched into the bottle—to someone, somewhere.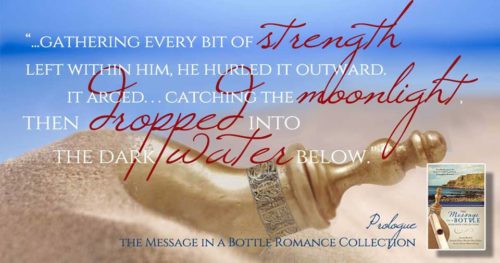 The Message in a Bottle Romance Collection follows the journey of that same bottle throughout the centuries in five novellas. It travels the world and touches hearts… and today, we'd like to invite you along for that journey.
Would you care to come along with us for a look behind the scenes in this short five-stop blog tour?
At each stop, one of the five co-authors will interview another, to take you chronologically through the novella collection and unwrap some fun bonus material.
Joanne is kicking us off with an interview of me, since mine is the first novella in the collection. 🙂 Be sure to check it out for my thoughts on writing my Viking/Irish novella and some pics of me as a kiddo…
Oh! And don't miss the chance to enter the giveaway (more information at the bottom of this post). Thank you for joining us, friends!
Now, go Behind the Scenes with author AMANDA DYKES as she answers a few interview questions! Amanda's Scottish and English-set tale, A Song in the Night, is so atmospheric!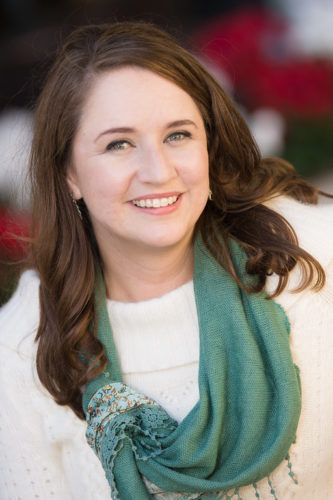 Amanda Dykes is a drinker of tea, dweller of Truth, and  spinner of hope-filled tales. She spends most days chasing wonder and words with her family, who love a good blanket fort and a stack of read-alouds. Give her a rainy day, a candle to read by, and an obscure corner of history to dig in, and she'll be happy for hours. She's awed by the strong thread of God's grace and provision woven through every era, and hopes her stories reflect that grace. A former English teacher with a B.A. in English Education, she is the author of the critically acclaimed Bespoke: a Tiny Christmas Tale, and enjoys connecting with her readers at www.AmandaDykes.com.
Interview with Author Amanda Dykes:
Q: With a story that contains a journey from Scotland to England, your novella covers a lot of ground. What were your favorite three settings within the book?
A: The first would have to be the monastery ruins that Meg, Duncan, Kate and Jimmy weather a night in. It dawned on me while plotting this book that the route from their particular part of Scotland, on down to London, could feasibly take them back to the very place where the bottle began in the North of Ireland.
The characters don't know that's where the bottle came from, of course, as this story is a few hundred years down the line from the prologue, but I thought it would be a fun sort of inside-secret for readers to be in on, getting to see the monastery from the prologue once more.
The second would have to be Loch Fyne, where the story begins in Scotland. Mostly because, well, Scotland. Be still, my heart! But also because although it's a lesser-known area of Scotland, it has a fascinating history and is home to two castles.
Castle Dunderave, which is actually in my own family's history as the ancestral castle once upon a time and which Castle Cumberave is based on in the story. It's right on the shores of the loch, and you can see a picture here: https://c2.staticflickr.com/4/3251/2836233013_8ce9aba9fb_b.jpg .
…And Inveraray Castle, where Downton Abbey filmed a certain episode wherein (spoiler alert!!) we last see a certain beloved character during a certain outing to Scotland.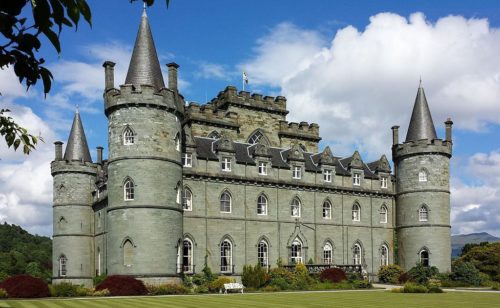 The third is a tie between Gretna Green and London Bridge.
Gretna Green, for two reasons:
(a)  Can't you just picture the shock and disbelief when it's revealed that Lydia and Wickham have eloped there in Pride and Prejudice? It was the hot spot for elopements back then, as it was just over the Scotland border, so young folks prohibited from marrying by English law due to their age would dash over the border and be married by a blacksmith there.
…and (b) The starlings. Oh, the starlings. There are just no words. I've long wanted to write a starling murmuration, which is this hypnotic, beautiful dancing flight of thousands upon thousands of starling birds. I finally got to write one there in Gretna Green. Take a peek at the inspiration for it in this video here, especially starting just after the 1 minute mark.

…and London Bridge because it was just plain fun. I've been there, but it looks FAR different now than it did then. See why there is a song about that old London Bridge falling down? It literally had mansions upon mansions built upon it, straddling the narrow road and bridge.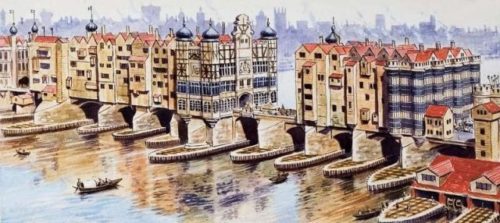 That palatial-looking one in the middle, called Nonsuch House, was the inspiration for Mrs. Bettredge's London Bridge home, where Meg prepares for the floating symphony on the Thames.
Q: Tell us about the bottle on the front cover. How did it come to be?
A: That's a fun story. While the five of us were brainstorming, we had to do a lot of troubleshooting.
…What sort of material would last centuries? (metal)
…What sort of metal existed at that time? (bronze)
…What sort of shape would hold lots, but be easy to carry?
…and so on. Finally, we came up with a list of characteristic, including the engraving of the Latin word for "Hope" (SPERO). In order to make sure our descriptions were consistent, I put together a visual prototype which we again brainstormed to refine. Here's a glimpse at the before and after: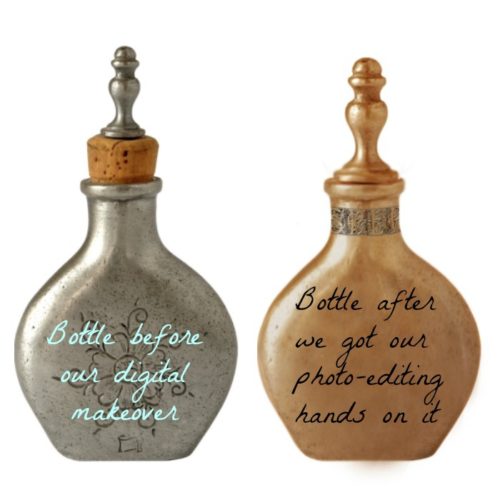 …We never dreamed it would end up on the cover, but in an unexpected turn of events when our publisher e-mailed us to see if we had any pointers on where to find an image of the bottle like the one in our story, we sent this back just as an example and… lo and behold, they sent us back the cover with that very bottle on it! Such a fun surprise for all of us.
Q: Tell us a little about your writing process for this novella. Any fun facts for us?
A: I find this ironic, because of all the many varied forms of water in this collection (lochs, oceans, bays, rivers, everything in between…) this story was written mostly next to water. I would take my notebook with me to the swimming pool where my kids were in swim lessons, and while the life guards and coaches had their careful eyes on them, I would alternate between watching them, brushing splashes of water from my notebook, and scribbling away at scenes. I didn't write the whole time there, as it's such fun to watch, but I don't think I'll ever be able to think of this novella without remembering the spray of water literally on my face. 😉
Q: If you were to curl up with a good book right now, what would it be and why?
A: I would bring a stack!! I have been eagerly waiting for time to read two new 2017 releases: A Moonbow Night by the wonderfully talented Laura Frantz, and The Mark of the King by Jocelyn Green, one of the incredible co-authors of this collection! Life has been so busy, but those two are on the top of my list along with many, many others.
I'm also ready to dive into the third book of the Mitford series by Jan Karon. I didn't read them when they first came out, and am finding such a treasure trove of story and beloved characters thanks to the recommendation of a dear friend (thank you, Lesley!!)
Q: What is one thing you hope readers will take from this story?
A: The redemption of broken things. It seems to be the theme at the root of so many stories, and it's the cry of my heart, the thing that makes me achingly grateful. The way our Savior can take the splintered, the rugged, the raw, and redeem them in His healing, patient hands, into something breathtakingly beautiful. He is so good, even when things are hard, and I hope that comes through in this story.
On a much more frivolous note, I hope they like Meg's dress in the symphony scene. That was such fun to write, because my friends and readers are the ones who helped me build the dress! I posted a few examples on this Facebook post ( link: https://www.facebook.com/authoramandadykes/posts/970506789736062 ), and they helped me pick different details from each one until the custom-designed dress was ready for Meg in her big scene.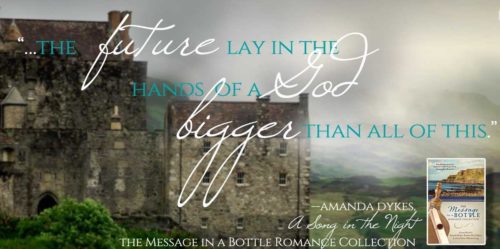 What a wonderful interview! Thank you for visiting my blog home today, Amanda. Readers, you will love A Song in the Night!

Just a final note from me. I want to say what an honor it has been to work with these four ladies: Joanne Bischof, Amanda Dykes, Jocelyn Green, and Maureen Lang. The Message in a Bottle Romance Collection is my first traditionally-published novel, something I worked toward for years, and as you've probably read in some of my older posts, I abandoned that dream to indie publish. While I'm glad I did go indie, it is very satisfying to finally see my author name on bookstore shelves alongside these stellar authors.
If you see this book at your local Christian bookstore, Books a Million, Barnes and Noble, Sam's Club, or Walmart, PLEASE snap a pic and email it to me at heatherdaygilbert (at) gmail (dot) com! I will add to our Pinterest album of reader pics here. On my book page here, you can click directly to the online links to buy this book.
The Giveaway 
Thank you for being here! If you haven't had a chance yet, do hop over and enter this hope-themed giveaway, which we hope will be a blessing to our readers. Look at these beautiful prizes: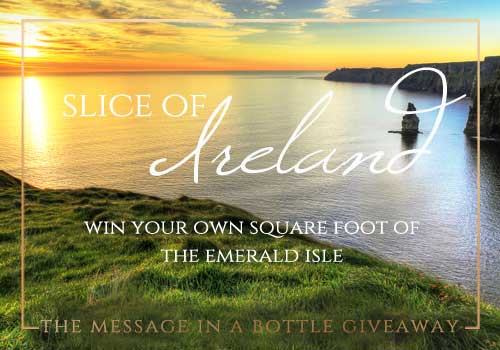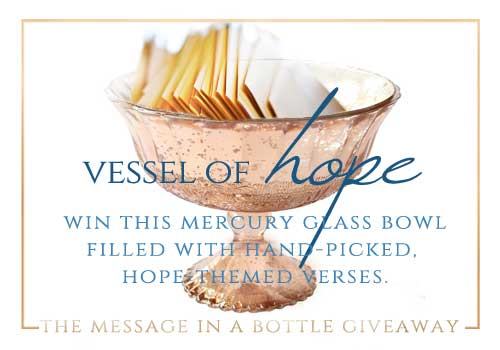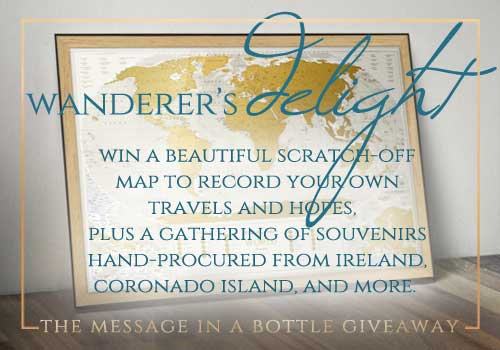 Top 3 Reasons to enter:
We want to celebrate you! We're so thankful for our readers, and this giveaway is one way we'd like to thank you.

Super quick and easy giveaway form—as simple as entering your name and e-mail, then clicking through to submit! As you'll see, there is a chance for additional entries, but it's entirely optional.
…you could win a wee plot o' land in Ireland!
Enter the giveaway today! And be sure to spread the word! This giveaway runs through 3/15/17.
And hop right to our next stop–Amanda Dykes' blog! You can find her post here.