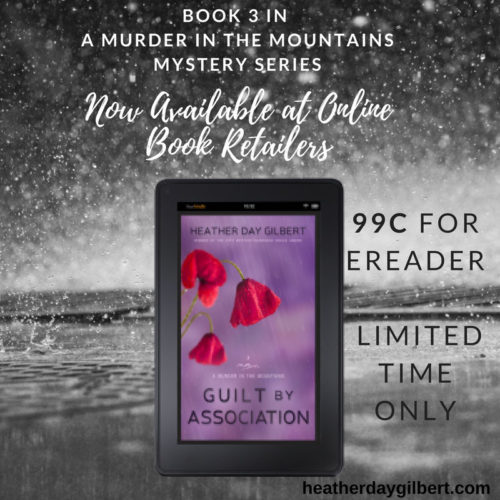 Today, I'm so excited to share that it's release day for Guilt by Association, which is Book 3 in A Murder in the Mountains Mystery Series. Tess Spencer is back, and as one of my readers said, she's "loaded for bear!" In this third mystery, our mountain mama is tracking down a drug-dealing killer in Boone County, West Virginia. And she's not quite sure if and how her fresh-from-prison mama plays into the case…
Here are the buy links for Guilt by Association!
Amazon: http://amzn.to/2Av2Mr6
Barnes & Noble: http://bit.ly/2Av3DrO
Kobo: http://bit.ly/2ByUgEH
iBooks: http://apple.co/2zOQ4jD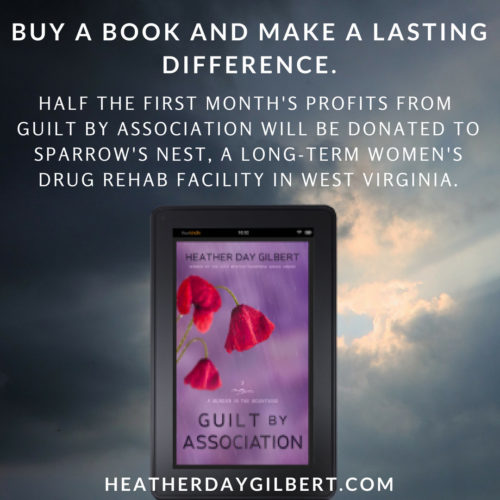 Since this mystery delves into the opiod drug epidemic in my home state, West Virginia, I've decided to donate HALF my first month's profits from Guilt by Association (both softcover and e-book versions) to a local, long-term women's drug rehabilitation center, Sparrow's Nest. From talking with professionals, I know that long-term rehab provides the best opportunity for addicts to recover, and Sparrow's Nest is working hard to help these women in their desire to get back to their families.
To that end, the e-book version of Guilt by Association will be priced at only 99 cents for two weeks. This is a steal, and I hope you will encourage others to pick it up at this price so I will have a more substantial check to donate to Sparrow's Nest! Here's a click-to-tweet quote you can share with others to spread the news!
Just released! #GuiltbyAssociation is a #WV #mystery for only 99c/ebook! Half the first month's profits go to a long-term drug rehab facility! http://heatherdaygilbert.com/books/guilt-by-association/
Finally, I just want to share some great pics of my early reviews and pictures of my early readers who've enjoyed this book thus far! I'm so grateful for my amazing readers, and I hope you'll be able to help spread the word on this release and please be sure to leave a review on Amazon, Goodreads, and other online book vendors! Thank you.
Early Reviews:
"This cozy mountain mystery with its colorful main character will keep your nose securely planted in the book!" ~Rebecca
"Along with the mystery, this is a novel with layers of heart. It exposes the tragedy of the drugs that really do run rampant in the areas where the novel is set – and in so many other parts of North America and the world." ~Janet, Goodreads
"It kept me guessing and therefore I couldn't put it down. I enjoyed this book and highly recommend it." ~Leila
"Yet another clean, fun mystery by Heather Day Gilbert. It's a fast read – you won't want to put it down." ~Kindle Customer
"I loved every minute. And…Gilbert never lets the reader in on the secret until the very end…with a very surprising ending, I might add. I never once had a clue who the culprit was. Bravo! Don't miss this one." ~Susan, Goodreads
Reader Pictures:
Have a wonderful Christmas season, and I hope Guilt by Association will be one of the books you're reading this December! And there is a BOOK CLUB DISCUSSION GUIDE for Guilt by Association all ready for you to download and print right here! I'm always happy to Skype in with your book club, so let me know if that's something you'd be interested in at heatherdaygilbert (at) gmail (dot) com!
-Heather