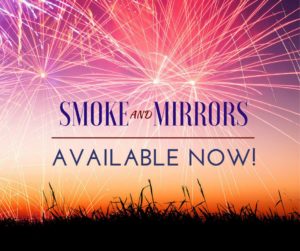 Welcome to those who have hopped over to my blog via Hallee Bridgeman's! And if you're just dropping in as one of my readers, let me explain what's going on!
The authors of the Smoke and Mirrors Romantic Suspense Collection are conducting a blog hop, with TWO Grand Prize Giveaways at the end for two random winners who comment on each post. The Kindle Fire Prize Giveaway includes some of our ebooks and a KINDLE FIRE, and the Book Lover's Giveaway includes a $25 Starbucks gift card and some of our signed softcovers!
The authors' blogs, in order of the hop, are:
(Author Sally Bradley is not participating in this hop, but she is an author in the boxed set!)
PLEASE NOTE: ***You will need to visit each of the 7 blogs above and comment on each one by 5 pm EST on May 30th to be eligible for a chance to win one of our grand prizes.***
The theme of this blog hop is "My Favorite Summer Vacation Destination." We chose this because each of our novellas is set in the summertime. (Yes, even Alana Terry's, which is set in Alaska!).
I'll be the first to admit that we rarely "vacation" vacation. Usually we travel to visit family or our kids travel with friends.
So those times we pay for an extended vacation are rare. We have traveled to Nags' Head and Emerald Isle, and had a wonderful time both places. I grew up loving the ocean (quite enamored with it, really–I wanted to be a marine biologist for a period of time). But now we're living in the very land-locked hills of West Virginia, and I'm perfectly content. Still, nothing can make me relax and forget my worries like the sun and salty ocean water. Or a pool.
However, if I had to choose my favorite summer vacation destination, the place I would LOVE to visit someday, it would be Newfoundland. My Viking historical readers will immediately understand why I'm choosing this–because I'd have first-hand understanding of the place Leif Eiriksson, Freydis Eiriksdottir, and Gudrid Thorbjarnardottir likely sailed to over a thousand years ago. I would also love to see Iceland, Gudrid and Finn's home, and Greenland, where Eirik and fam lived.
So in the spirit of a Nordic adventuring vacation, here are some photos of what I would do:
Check out the reconstructed longhouses at L'anse Aux Meadows in Newfoundland:
I would also visit Eirik the Red's family farm, Brattahlid, in Greenland. I would definitely poke around and take lots of pics of Eirik's wife's chapel–she was a Christian, just like her son, Leif Eiriksson:
Finally, besides trying to visit plenty of Viking museums in Iceland, I'd want to visit the Icelandic Blue Lagoon spa. Here's a pic of that:
So relaxing! But to energize myself, I'd also love to see Icelandic volcanoes or trek through some lava fields there! I can't imagine how cool that would be!
So there you have it–my fave summer destination–maybe someday I'll get to one or all those places!
Does any of this relate to my romantic suspense novella, Out of Circulation, that you'll find in the Smoke and Mirrors set? Not really, outside the fact that my main character, Katie McClure, is also land-locked in West Virginia!
Here's a blurb on Out of Circulation:
When Russian mobsters threaten small-town librarian Katie McClure, she is forced to accept an offer of protection from Manhattan bodyguard Ace Calhoun. As they race the clock to find a long-hidden bank stash, Katie discovers too late that Ace might be the wrong man to trust with her life…and her heart.

And here's a blurb on the next book in the set–Kelli Hughett's novella, Dangerous Alternative. You will hop over to Kelli's blog next!
Summer in Southern California doesn't get any hotter than this. When Levi Boulter agrees to work for the FBI behind the scenes in Hollywood, he never plans on becoming an operative working to thwart a plan to assassinate the President's wife—or on keeping a deadly secret from Mahari, the love of his life. When Mahari is kidnapped, Levi makes the gamble of his life in order to save her. Will Levi's secret divide them forever, or will they come together in time to stop an assassination?

I have read Kelli's novella, and I think it would be lovely to visit Southern California sometime, too!
So, dear reader, your mission, should you choose to accept it, is to comment on EACH of the 7 author's blogs linked above by 5 pm May 30th. Then, at 7 pm on May 30, two winners who have commented on all the blogs will be chosen for the following grand prizes:
THE KINDLE FIRE GRAND PRIZE:
Includes one brand new Kindle Fire and the following ebooks by the Smoke and Mirrors authors:

The second grand prize is:
The Book Lover's Grand Prize:
This prize will include a $25 Starbucks gift card, as well as the following signed softcovers by the Smoke and Mirrors authors:
We will email the winners on May 31, but first, come visit us on May 30th starting at 7 pm EST on Facebook here for the announcement of the winners and a Week-Long Virtual Cruise to the destinations in our collection!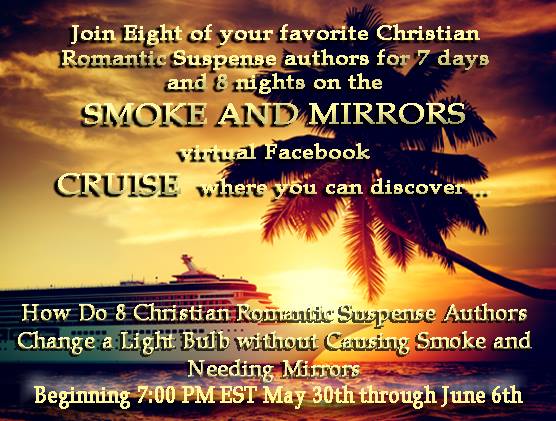 During the Facebook cruise, readers will ask the eight Smoke and Mirrors authors questions and we'll be asking our readers questions! It is a leisurely pace, so you can drop in and out, leaving questions and reading up on the answers later, if you like. It's a great chance to fellowship with some of your fave romantic suspense authors–and some of your soon-to-be-faves!
~~~~~~~~~~~~~~~~~~~~~~~~~~~~~~
***And now, I have a question for you to answer in the comments! Please be sure to also comment on all the other 6 blogs for a chance to win a Grand Prize! Your question is:
What is the most unusual vacation experience you've ever had, and why?***
Hope to see you at our Facebook party on May 30th at 7 pm EST!