Let's continue our virtual tour of The Greenbrier Resort, located in White Sulfur Springs, West Virginia! There is such a rich history with this resort that I couldn't possibly begin to scratch the surface of it, but be sure to read up on it sometime.
Why are we "touring" The Greenbrier? Because my upcoming release, Undercut, is partially set at The Greenbrier. This romantic suspense novella releases October 3 in the Kill Zone: Ten Deadly Thrillers boxed set. Read more about the TEN bestselling Christian thriller/suspense writers in the set and pick it up for 99c for a limited time here!
And now, let's head back to our tour. As you might recall, last time we stopped after my husband and I explored the grounds behind the main building. Today, we're heading INSIDE…and I figure we'll need one more tour day to share even a third of what we saw!
A VIRTUAL TOUR OF THE GREENBRIER RESORT, PART 2:
Since it was such a hot day when my husband and I visited The Greenbrier, it was a relief to head inside the air-conditioned main building to check in. We made our way past the upscale shops that line a wide hallway–there's a handmade chocolate shop, a Ralph Lauren shop we wished we could afford, a jeweler, and much more. Also on the lower level is a spa, an Aveda hair salon, a bowling alley, a movie theater, and a pool area. Find a list of the shops at The Greenbrier here.
We passed some relaxing lobby areas, like this one:
And Draper's Restaurant is a delicious place to eat, although we didn't eat there this time around. The decor is one-of-a-kind, designed by Dorothy Draper: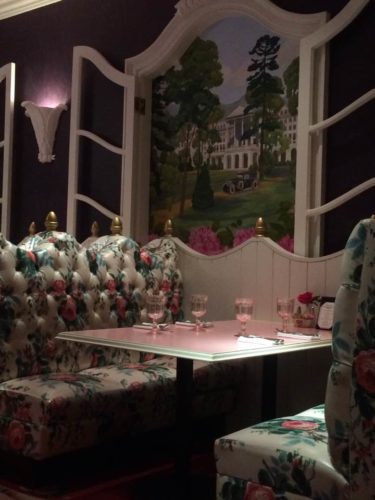 When we checked in, they offered us glasses of iced peach sweet tea, which was a refreshing treat. Then we headed up to our room to settle in. It was so uniquely decorated!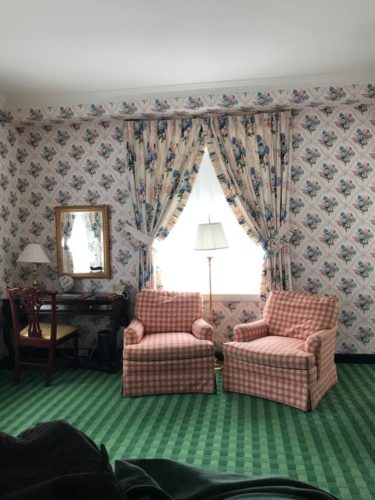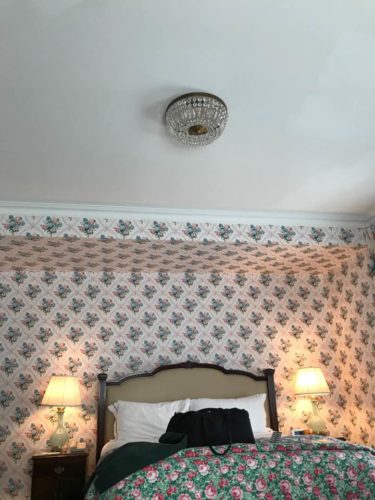 I tried to stage a couple of pictures with my first-in-series romantic suspense novella, Out of Circulation, that is also partially set at The Greenbrier. As you can tell, I'm no staging pro, but don't you love the color of this lamp? And there's another pic of the view from our window: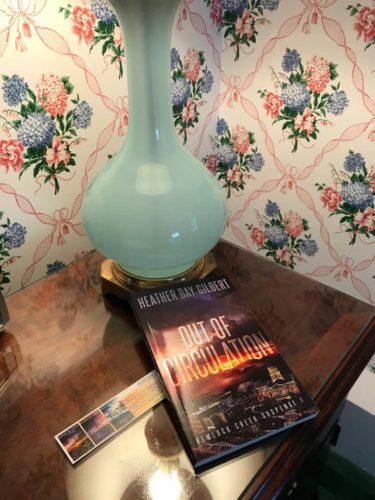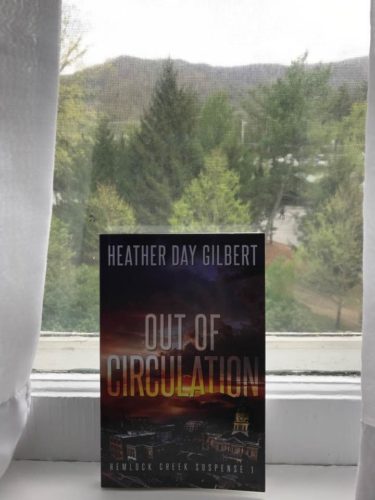 Next, we wanted to catch the tea that is offered in the afternoon, so we wandered downstairs. Here's a pic of the entryway (check out the metal chandelier–I just love it):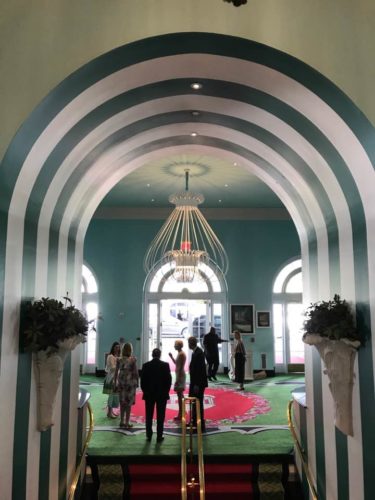 And I'll share a few pictures of the main interior rooms at The Greenbrier. There are plenty of comfy nooks where you can settle to drink your tea, although it did get crowded: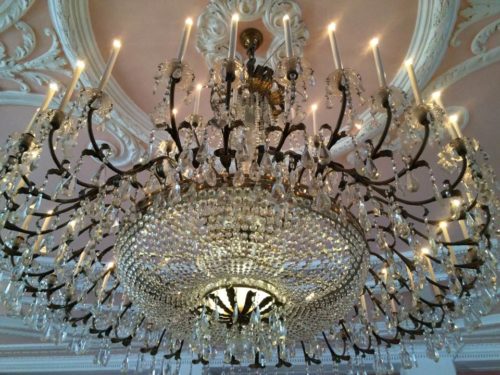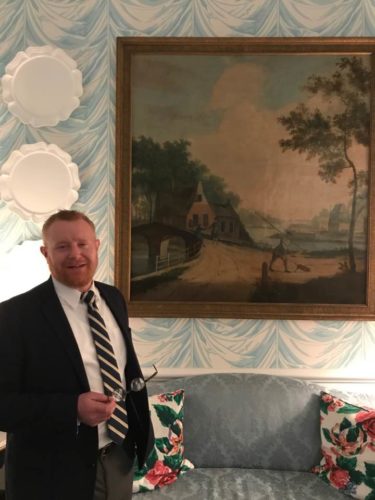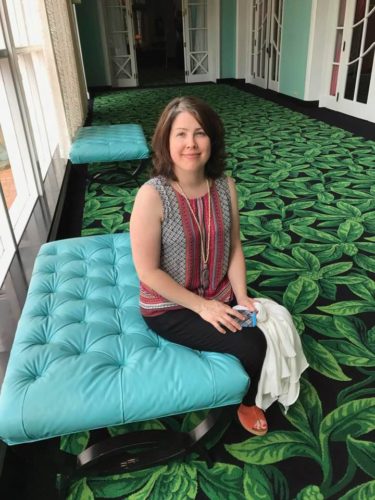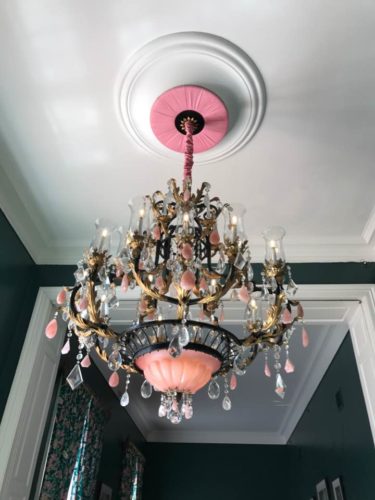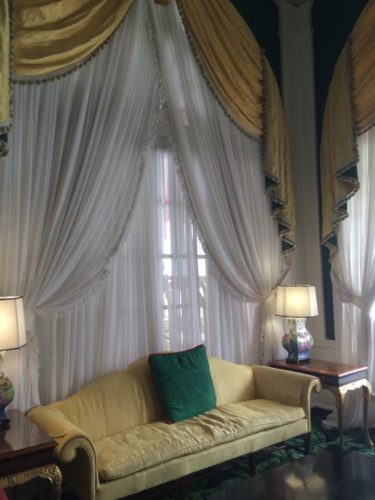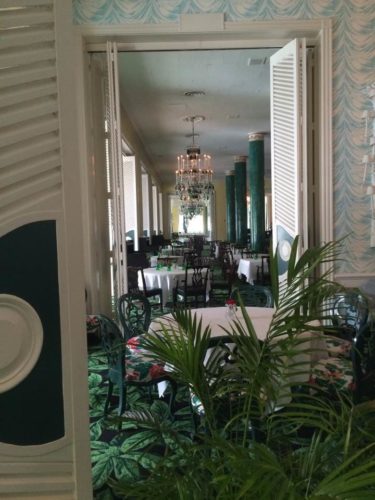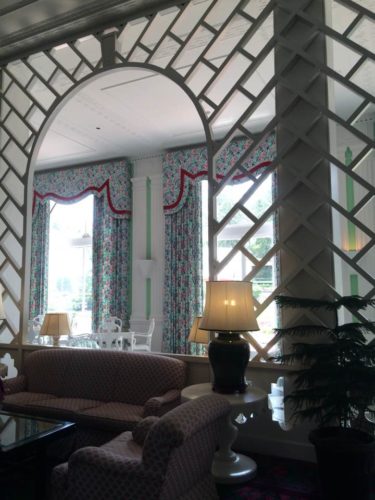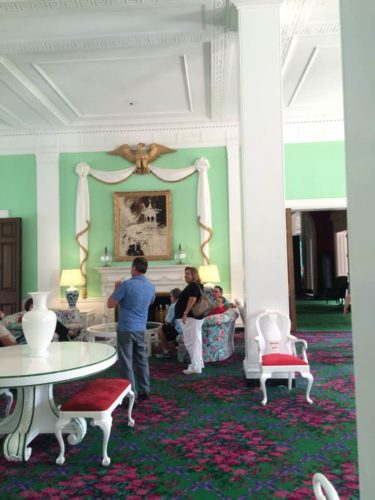 The piano began to play, and we made our way to the tea and dessert spread in the central area.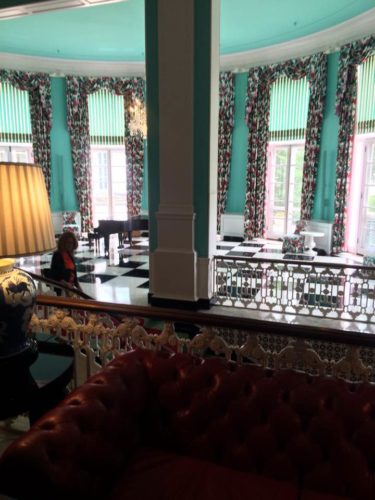 AND we'll have to cut it short there, since I've shared so many pictures today! We'll do one more tour day next week, when I'll share pics of our tea and the wedding planning room! Come back for the continued virtual tour of The Greenbrier Resort!